Bengaluru: Activity in India's dominant service sector accelerated in April thanks to a pick up in new business that encouraged firms to hire at the fastest pace in seven years, a private survey showed on Friday.
With growth in new orders and easing inflationary pressures also helping in improved demand conditions, the Nikkei India Services Business Activity Index climbed to 51.4 in April from 50.3 in March.
"This signalled a faster expansion in output at Indian service firms than in the prior month," the survey report said.
Indications of solid services and manufacturing growth, supported by improved demand, suggest Asia's third largest economy is motoring along nicely as it shrugs off disruptions caused by a goods and services tax (GST) and demonetisation.
The Nikkei/IHS Markit Services Purchasing Managers' Index rose to a three-month high at 51.4 in April from March's 50.3, holding above the 50-mark that separates growth from contraction for a second month.
"It was encouraging to see the Indian service economy report a positive start in the April quarter, with output growth gaining momentum as demand conditions improve," Aashna Dodhia, an economist at IHS Markit, said in a statement accompanying the survey.
"India's overall economy also saw price pressures moderating further, with input and output charge inflation registering at the slowest since September 2017 and June 2017 respectively."
Inflation could, therefore, slow further from March's five-month low and closer to the Reserve Bank of India's medium-term target of 4.0 percent. That would allow the central bank to stay on hold until the second half of next year as expected
A sister survey on Wednesday showed factory activity accelerated in April on strong domestic demand and output.The survey showed strong domestic and foreign demand and drove the sub-index on new business to 51.4 from 50.6 in March.
Taken together, they pushed the composite PMI, which includes both manufacturing and services, to 51.9 in April from March's 50.8, its highest in three months.
"As the service economy contributes a greater proportion to real GDP, and continued to be outperformed by its manufacturing counterpart, overall private sector growth was only modest and below the historical trend," Dodhia said.
Service providers remained optimistic about growth in the year ahead, although the expectations index slipped slightly from March's reading.
The service sector plays a crucial role in India's economy as it contributes about 60 percent to the country's gross domestic product.
India regained its status as the world's fastest growing major economy in the October-December quarter, surpassing China for the first time in a year, and is likely to retain that title this year and next.
What the latest PMIs mean for Asia
Heatmap 1: Headline manufacturing PMIs and new orders
At the surface, neither here nor there, said Frederic Neumann, Co-head of Asia Economics Research and Abanti Bhaumik, Economics Associate, Bangalore of HSBC Global explaining what the PMIs mean for Asia. "One average, headline manufacturing PMIs were unchanged on the month for emerging Asia. India ticked up nicely, as did Indonesia, the Philippines, and Vietnam. Japan, too, showed a bounce. But that was offset by weaker numbers elsewhere. China's two measures are a wash. What's more worrying is that new export orders stalled. Blame the turn in the global electronics cycle, especially consumer products. Fortunately, local demand appears more resilient, helping to support overall production. With numbers like these, inflation remains well contained across the region. Rate hikes: few and far in between.," they said.
Heatmap 2: Manufacturing PMIs new export orders and employment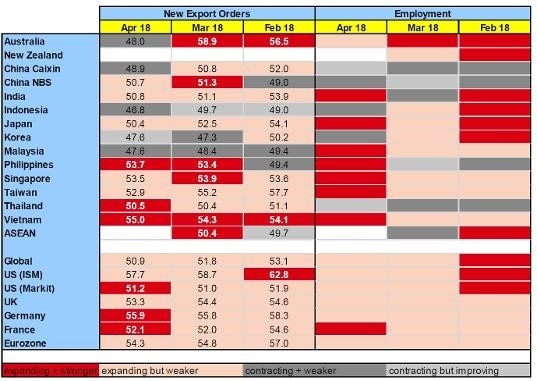 Turn to our first heatmap (above). Not too shabby at first glance. Some headline PMIs are up, others down. The global measure even managed to tick up in April. In Asia, Korea, Malaysia, and Thailand remain below the waterline. Taiwan's measure, while positive, slid further – a good proxy for the easing electronics cycle. China's two measures headed in opposite direction: steady, if uninspiring, manufacturing growth.
Developed markets continue to outperform (chart 1). Japan bounced, the Eurozone is still growing at a respectable pace, and the two US measures diverged.
Chart 1: Headline Manufacturing PMIs
New orders send the same, broad message: easing fractionally in Asia. Our new orders minus inventory measure suggests a further deceleration in output growth, though not exactly a collapse (chart 2).
Chart 2: Manufacturing PMIs new orders minus inventory and output growth

Here is the kicker though: new export orders stalled.
Take a look at our second heatmap. Only the Philippines, Thailand, and Vietnam saw a tick-up. Note the sharp drops in Japan, Taiwan, and China's Caixin PMI. On average, new export orders for emerging Asia contracted – the first time since December 2016.
New orders, as mentioned, held up much better. That implies domestic demand is more resilient (chart 3). Trouble is, a sharp export downturn can over time drag down local activity, raising risks to overall growth. Fortunately, so far, employment seems to be holding up (second heatmap), although continued job shedding in China suggests that consumption isn't going to sharply accelerate any time soon.
Chart 3: Emerging Asia manufacturing PMIs new orders and new export orders
Silver lining? Inflation. Or, rather, lack there-of. Barring big exchange rate moves, few central bankers in Asia should feel the itch to follow the Fed any time soon.