Saina Nehwal always wears an intense armour on court. She wills herself on, pumping her fists and screeching after winning a hard-fought point or muttering after conceding one. She is known to scowl and screech. She is intensity personified. On Thursday, in Sindhu she faced an opponent who maintains a similar demeanour on court.
But in the white heat of the battle in one of the most absorbing games of badminton, Saina allowed herself a chuckle. If PV Sindhu caught a glance of her opponent's face, she would have been left flummoxed by the timing of this emotion. Sindhu had just smashed into the net to give Saina her sixth match point in the second set. Every time Saina seemed to be on the cusp of taking out Sindhu, the World No.2 found a way to keep the match alive. Saina's smile was perhaps her way of finding an escape route from the intensity of the battle.
The next point, eventually the one Saina bagged to win the women's singles title at the badminton nationals, was hard-fought. At one point, it looked like Saina had killed the point but Sindhu dived to her right to retrieve the shuttle. Nehwal had the entire court at her mercy, but she wanted to make sure she would finally claim her sixth match point. Saina smashed, from close range, directly at her opponent instead of the vacant court. A body-line shot often catches an opponent off guard, especially when one side of the court is completely open. But Sindhu reacted in time, again, and got the shuttle back over the net. The rally would go on for another 10 shots till Sindhu would finally put all her might into a jump smash that went no further than the net, ending the 54-minute encounter in Saina's favour 21-17, 27-25.
'2012 Olympic medalist beats 2016 Olympic medalist to win 2017 Indian national championship' as Saina Nehwal beats PV Sindhu
The pair had put on an enthralling show with numerous rallies going well beyond 20 shots — it happened three times after they were level on 20-20.
Sindhu, who stands at 5-foot-11, plays an attacking game loaded with heavy jump smashes. On the evening, too, she would not hold back when unleashing powerful overhead drives across the net.
Only that Nehwal, a serial retriever, was comfortable in dealing with the shots coming her way.
At 12-9 in the first game, Sindhu let loose a full-blooded smash. Nehwal countered the overhead drive with a cool push over the net that left her opponent rooted to the spot.
Later in the same game, Saina, leading 16-12, made a sharp reflex retrieval from the right corner after a Sindhu smash. The second return though was deep, flat and cross-court. Sindhu struggled to get to the shuttle, but Nehwal was waiting at the net to present a smash of her own — with no less venom.
It gave the 27-year-old a six-point lead in the first game that Sindhu could not recover from.
On the evening, Saina backed herself while lunging forward to pick up Sindhu's drop smashes. Her stroke play too helped her shift gears, as variations in terms of pace and placement of her returns kept Sindhu guessing. Then there were her own smashes and flat strokes that set up and killed off points.
Would like to thank Pullela Gopichand, team for working on my movement, says Saina Nehwal
To give her the first match point opportunity, Saina dragged Sindhu into a lengthy net dribble before hitting deep. Sindhu back-pedalled and got a return, but Nehwal was at hand to slot home.
It was also how she got level to 6-6 in the second game, after being down 5-1.
"Even I'm surprised by how I played today," she said after the match. "I was able to pick up her shots and my movement was very good. I haven't moved like this in very long time."
Sindhu, though, did have her moments of brilliance. Trailing 14-10 in the second, Saina hit deep into Sindhu's half, and the Rio Olympics silver medallist, while recovering ground, hit a perfectly executed drop-smash.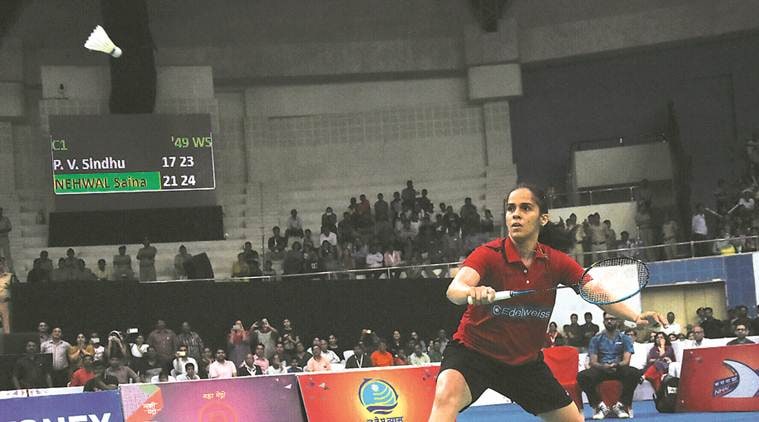 Saina Nehwal defeated PV Sindhu 21-17, 27-25 in Nagpur on Wednesday. (Express photo by Monica Chaturvedi)
Sindhu also tried to slow the game down to break Nehwal's rhythm, by taking her time to get into position to serve or receive — she also stopped to tie her shoelaces earning her a warning from the chair umpire.
But there was no stopping Saina.
The final at the Divisional Sports Complex was the first time since March that the pair faced off in a competitive match. They were 1-1 heading into the domestic finals, having incidentally played both matches in India. On the last occasion they met, at the India Open Super Series, Sindhu pulled off a 21-16, 22-20 win. Since then Sindhu has risen to World No.2, and Saina cemented her return from the knee surgery that had hampered her Olympics challenge last year.